"
"I'm Lucas Friar From Austin,Texas"
"

—Lucas's Catchphrase
Lucas

Information
Full Name

Lucas Friar

Nickname(s)

Ranger Rick,Moral Compass,Bucky McBoing Boing (Maya)

Gender

Male

Date of Birth

2001 (14)

Resides in

Austin,Texas(Former) NYC

Occupation

Student

Eye Color

Green

Hair Color

Brown

School

John Hughes High School ( Season 3-7) John Hughes Middle School (Season 1-2)

Affiliations

Student

Production
Lucas Friar 
is a main character in Girl Meets World. He is played by Peyton Meyer.
Personality
Edit
Lucas is cute. He is the new boy and is smitten by Riley. He loves hanging with her and loves his hometown Austin Texas. 
Relationships
Edit
Friends
Riley  Friends, Exes, and Crushes, still in love with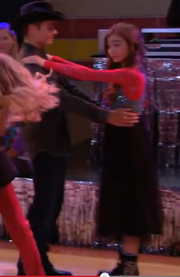 Riley and Lucas have a really big connection. Riley is akward with Lucas. They went on a date in
Girl Meets First Date
Lucas and Riley may have a second date in a future episode. They are the lead couple (pairing)
Maya  Close friends, and Possibly crush.  They are close friends and possibly will be an item. In Girl Meets Creativity, he calls her the blonde beauty and deeps cares about her. In Girl Meets Flaws, Maya is the only one who tells him that he can't hit Billy because he is just going to be like him.
Strengths
Edit
He is good at baseball.
He is good at making friends.
He is also good at rope tying.
He is good at dancing and singing.
He rides horses.
Weaknesses
Edit
He is from Austin, Texas
He is best friends with Riley, Maya, and Farkle.
He is also best friends with Zay.
He attends John Quincy Adams Middle School.
He is 13 years old.
To view the Lucas gallery click here